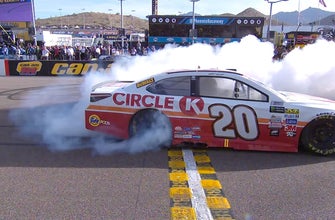 ANNOUNCER 1: Now the 24 dives down below the yellow line, trying to find the fastest way around Phoenix. 10 laps of racing to go.
ANNOUNCER 2: This isn't about playoffs, this isn't about teammates, this is about Matt Kenseth, Matt Kenseth's career. He doesn't know if it will continue. He said that, so he makes a move to the 24.
ANNOUNCER 1: Here comes to the inside the 20 of Kenseth. He's going to dive down to the dog leg to try to make the pass, going into three. If he takes the lead away from the 24, the 2 will then be in the favored seat for the Championship 4. Matt Kenseth in front now at Phoenix.
And now with a lap to go at Phoenix, the white flag goes in the air. One more time around. Matt Kenseth eliminated from the playoffs on a technicality. Had too many men over the wall when they were trying to fix the car. Now, trying to get that win in 2017. The 45-year-old comes out of turn four. Kenseth's going to win in Phoenix.
MATT KENSETH: Yeah, baby! Woo!
ANNOUNCER 1: Brad Keselowski trying to hold onto his position.
ROGER PENSKE: Breathing room behind you. Today, not one to be [INAUDIBLE], but here's what your season is. Good job. Great job, buddy. Great job hanging in. Paul.
ANNOUNCER 1: And you just heard Roger Penske, great job.
ROGER PENSKE: Classic, baby. Classic.
ANNOUNCER 1: Chase Elliott came up from the back, the 20 letting him know congratulations. And once again, Chase Elliott, a second place finish.
ANNOUNCER 2: Look at the number of drivers showing Matt Kenseth the respect, the appreciation for what Matt Kenseth has done in this sport, the appreciation for how good he still is. You telling me this guy don't have a ride next year? It's ridiculous.
ANNOUNCER 1: But you look at that, Jeff, and you know him better than anyone– You don't normally see a lot of emotion out of Matt Kenseth. And we saw fist pumps, the hand going in the air. This moment presented by Sunoco, fueling victories all season long. Math Kenseth wins the Monster Energy Cup series for the first time this year.
TRACK ANNOUNCER: The retirement word has not left his lips. This could very well be his last visit to Phoenix–
ANNOUNCER 1: 39 now the career win record for Matt Kenseth. We've documented. He doesn't know what he's going to do in 2018. He's already mentioned there'll be a hiatus. He doesn't have a ride for the Daytona 500. Could that change now, with what people have just seen? Everyone knew Matt Kenseth could win races. And on top of the car he goes.