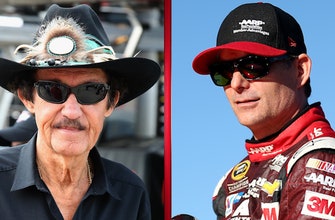 – We are ready to unveil the top four drivers. You should take an Uber home, by the way. And vet out the driver really good before you go. Number four, Fox analyst Jeff Gordon, a four time champion.
– And number three is David Pearson. 105 victories for old Pearson. OK. So here we go. We've still got two left. But we wanted to talk about three and four before we get into one and two. And you guys have been collectively talking about it off camera. Thoughts on these two guys.
– Yeah, I actually had Jeff just a little bit higher than this. Maybe only about one spot. You know, we think about crown jewel wins. You think about the Daytona 500, the Coke 600, the Brickyard 400, and the Southern 500. Of his 93 wins, 17 of them came, not at those venues, but at those particular races. Those races throughout the season. So I had Jeff a little bit higher. But I guess when my bracket fell out the bottom with Dale Earnhardt being fifth, I just kind of have to put them where I think they go.
– I'm just glad you're still here, actually.
– Actually, I had him higher as well. And I mean, he had nine roto course wins. He was a very versatile driver, right? He was good on every single course. Obviously, you know, one of those big huge tracks that we all admire so much. So, I actually put Jeff a little bit higher. And again, Eric kind of comes into play a little bit. You know, you start thinking about when he did it, how he did it, how dominant he was at the time when he did it. And I had him a little higher.
– He completely dominated from '94 to 2007. 81 of his victories were during that time. And just a reminder, he was on that original 50 list that NASCAR put out 20 years ago. So stayed on the list, and pretty high.
– Yeah Jeff deserves a lot of credit for his career. I had him real close. Just had him at number three. But I want to talk about David Pearson real quick. David Pearson, to me, I thought he might have been in contention to be number one. His win percentage was phenomenal. In fact, of his starts, he won 2% more of the time than Richard Petty did. Put that in perspective. Less than half the starts of Richard Petty, but almost half the wins at 105. So I got a lot of respect for David Pearson. So, him coming in at number three, that one's a little tough for me.
– Yeah, I mean, obviously, growing up as a kid, watching races and stuff like that, I mean, David Pearson was that guy that went out there. And he was, you know, always giving Petty a run for his money. So if it wasn't for– if it wasn't for Petty– if it wasn't for Pearson, Petty would have won a lot more races. But, at the same time, Petty won so– Pearson won so many races with a short amount of starts, like you said. In the Silver Fox, I mean, obviously, his win percentage was awesome. So, you've got to think that he's going to be up there. But I want to say one thing about Jeff Gordon. I think I was there for all of his wins. And I got a few in between. I like to think that he's really competitive, like you said, Shannon. Because at that time, I was a part of that era that he was in. And I can tell you right now, he was one of the toughest competitors that we had. Earnhardt, obviously, was right there with him. At that– in the air that I drove, and was competitive when I was.
– Yeah, and if you look at Pearson. Of his 105 wins, he won a lot of big races. And I don't know if anybody has ever gotten around Darlington, South Carolina better than the Silver Fox David Pearson. In qualifying. I mean, I don't know how many consecutive polls he set on at Charlotte Motor Speedway. But he had 113 career Poles. And he actually went 17 years– consecutive years– with one win. I guess if we go down the road of Brad and wins, yeah, David is a little behind of what we think he should be at those 105 wins out of 574 starts.
– I would argue that David Pearson might've been the most feared race car driver out there. When he just showed up, he could win in anybody's car. And you think about car owners and how car owner dependent the sport is, about having a quality ride, Pearson could win in anything.
– We know who the top two are. It's just a matter of which order will they come in.
– I'm nervous.
– I know the answer and I'm nervous.
– I do too. Yes.
– Here we go. Number two on our top 50 list, seven time champion, driver of the 48, Jimmie Johnson.
– And then there was one. It's a position fit for a king. And that is where number one, Richard Petty, sits on top of the list of the top 50 drivers as per Race Hub and Fox Sports.
So, this was the toss up, I think, for a lot of people. Where do you place Jimmie Johnson, considering everything that he's done? The seven championships, the five in a row, the different cars, the different formats. Everything that he's been through, how do you compare him to the King? What do you think about this?
– Well I'll probably have to take the same Uber that Brad takes home. But when I think about exactly what you said, the competition level with Jimmie Johnson today. If you look at his 16 full seasons, not including this year, he won championships seven out of 16. And the different rules package. I think they kept moving the playoff format around trying to chase his championship. So I had Jimmie Johnson number one.
– Casey, where did you have Jimmie Johnson?
– I did. I picked him number one, you know? And not taking anything away from Richard is what he's done for our sport and throughout his career is absolutely amazing. But again, you got to think about time era, the amount of cars that were competitive and could win races, you know, at the time that they did it. The wins in a row, the championships in a row. You know, in my mind, I picked Jimmie to be number one.
– You know, I'll be honest with you. I guess I'll take the Uber ride with everybody else. I had him at number five. I thought that, you know, obviously, Jimmie is going to be– he's not going to be knocked out of the top 50 for hundreds of years. But at the same time, I thought, with the equipment that he has today, in my mind, it's very stellar. I mean, he's got some really great equipment, great teammates. And you know, it's not– it's not difficult. But this is all he had to do was really concentrate on winning those races and winning those championships. Different era than Richard Petty. You know what I mean? So a lot of stuff had to go into it. But I've obviously raced against him. Very impressed with what all he did. And there's no doubt that he deserved to be right where he's at.
– Well I got to say one thing that makes this difficult for me. Jimmie Johnson's still active. He's the only driver, I mean, really in the top 15 in our list here that's still active. So on this day of April, 2018, he's not in the top five for me. He's sixth.
– I got to get this straight. So you had Jimmie Johnson fifth, and you had Dale Earnhardt eighth?
– Yeah, but he still have– he has career left to keep winning.
– So let me ask this question. Let me ask this question. How does career left matter? If you look at their accomplishments today and you measure whether it's Richard Petty, Dale Earnhardt, Cale Yarborough, David Pearson, Jimmie Johnson, if you lay their stats out, how does future potential impact today how we sit here where they rank in the top 50?
– Well if Jimmie wins another championship and goes off and wins another five or 10 more races–
– But forget that. Let's just–
– I think that makes a big difference.
– But as of today.
– I think, right now, he's earned number five to number six. I have him number six on the list. I appreciate the era he's racing. His winning percentage for his era is by far the highest. There's no doubt about that. His average finish, by far the highest for the eras he's won in, but he's still a lot of wins behind Bobby Allison, Jeff Gordon, David Pearson.