Harper's knee appeared to buckle as he hit the bag awkwardly and he had to be helped off the field. But it was an encouraging sight as Harper walked out of the Nationals clubhouse late Saturday with a slight limp.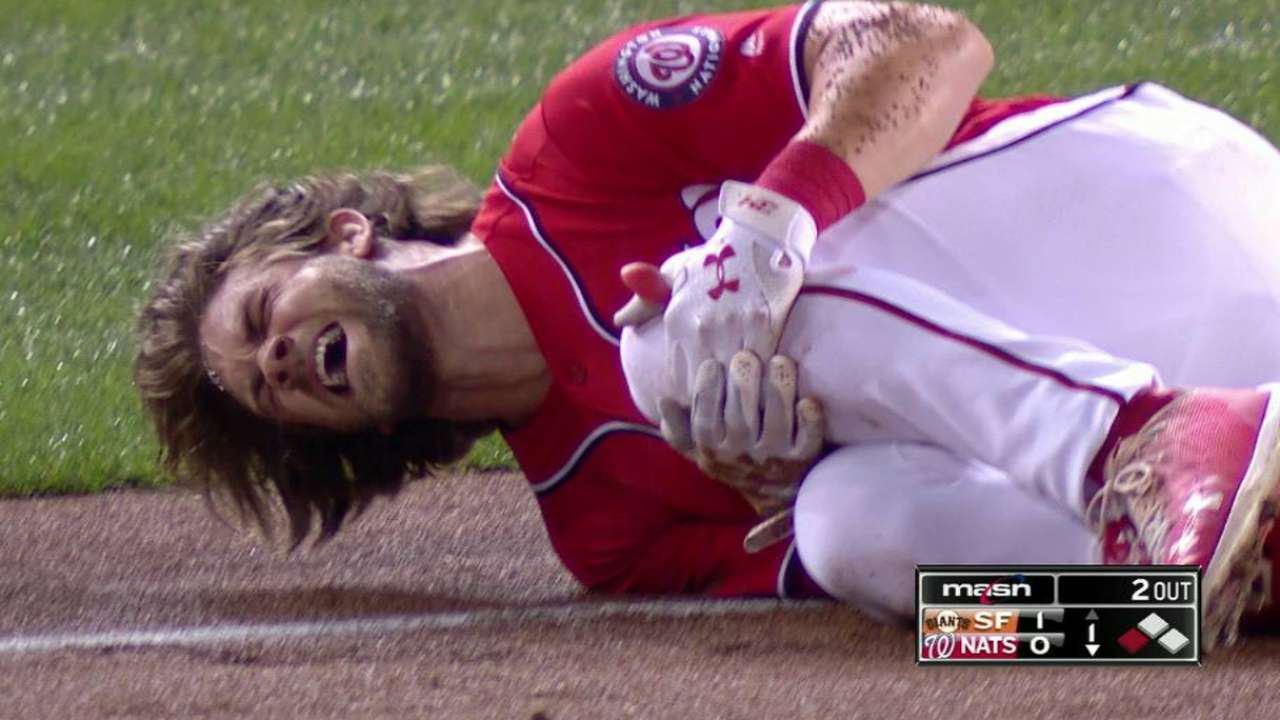 "There is no ligament or tendon damage, which is pretty remarkable in my mind, just seeing the type of injury he had," Rizzo said. "We feel we've dodged a bullet a bit here."
The Nationals officially placed Harper on the 10-day disabled list with a hyperextended left knee and reinstated Michael A. Taylor in a corresponding move. Additionally, catcher Pedro Severino was added to the Nationals' roster from Triple-A Syracuse as the 26th man for Sunday's doubleheader.
Rizzo did not offer a timeline for Harper's return, but considering the team's commanding 14 1/2-game lead entering Sunday in the National League East, the Nationals are in position to handle Harper with caution. The regular season ends seven weeks from Sunday and the Nationals have aspirations of a deep postseason run with Harper as a major part of it.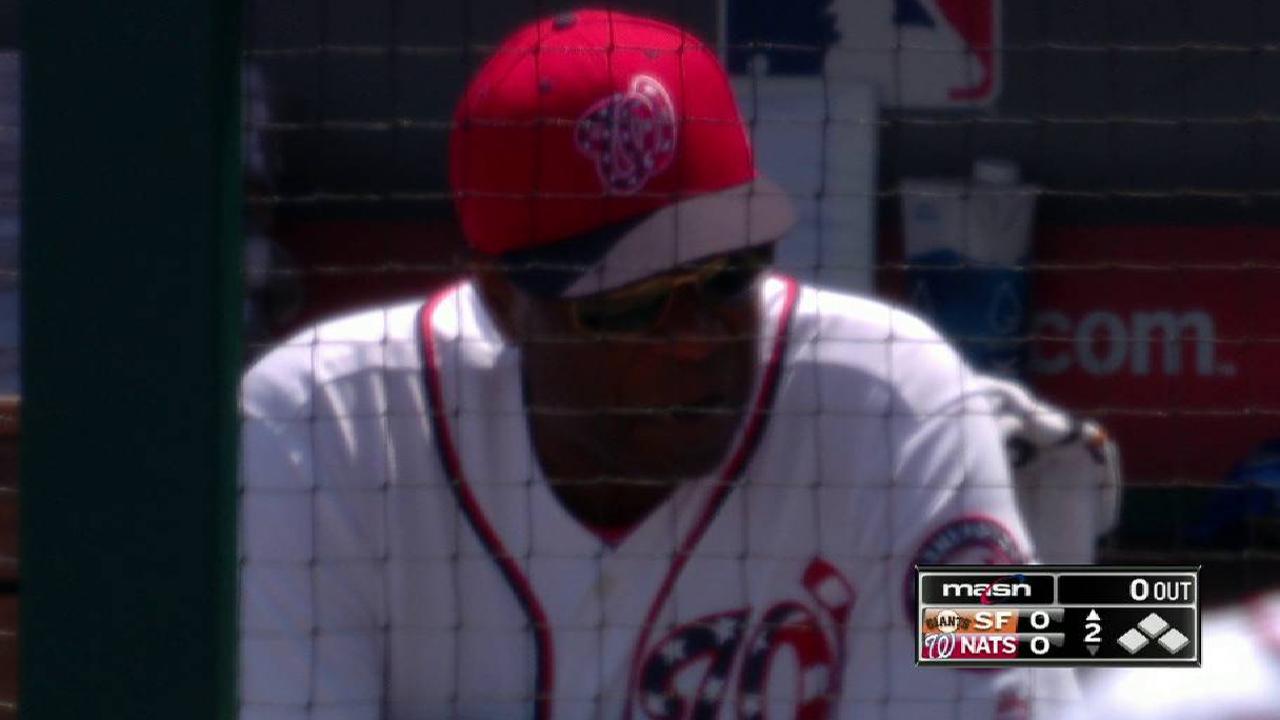 Initially, Rizzo feared the worst when he saw Harper lying on the ground in agony, as did the fans who waited out a 3:01 rain delay Saturday night as Nationals Park fell silent. That included manager Dusty Baker, who walked up the first-base line with his hands on his head after he came out to check on Harper. But Harper seems to have avoided the worst-case scenario, which team doctors told Rizzo is a testament to Harper's athleticism, flexibility and youth.
The field had been soaked during the lengthy rain delay and suffered through thunderstorms that postponed Friday's game, and although Rizzo acknowledged the bases likely being slippery, he did not take issue with the field conditions.
"I think the conditions aided in it, but the bases are hard, slick at times," Rizzo said. "And you've got a hustling player just trying to play the game. Harp plays it, as we've said it before, 100 mph with his hair on fire. That's the way he's going to play it throughout his career and you can't fault a player for going hard all the time."
So for now the Nationals are going to have to get by without Harper, who joins a lengthy list of players on the disabled list. Washington's entire Opening Day starting outfield is currently sidelined in center fielder Adam Eaton (ACL) and left fielder Jayson Werth (foot). The Nats have used 12 players in the outfield this season and Rizzo said he is comfortable with what the team has in the organization and will not need to acquire additional outfield help.
Werth could begin a Minor League rehab assignment soon, and the return of Taylor, who has been out since July 6 with a strained oblique, will help. Taylor posted an .831 OPS with 12 home runs and 10 stolen bases in 72 games this season and has been a strong replacement in center field since Eaton was lost for the season in April. Taylor played in 12 games during a Minor League rehab assignment and found out late Saturday night that he had a flight scheduled early in the morning for Washington.
"It's been a grind, trying to just get to the point where I was swinging and not really thinking about [the injury]," Taylor said. "It's one of those things that it has to leave the back of your mind. When you really trust that you swing through a pitch and it's not going to go on me. I think I've gotten to that point and I feel good right now."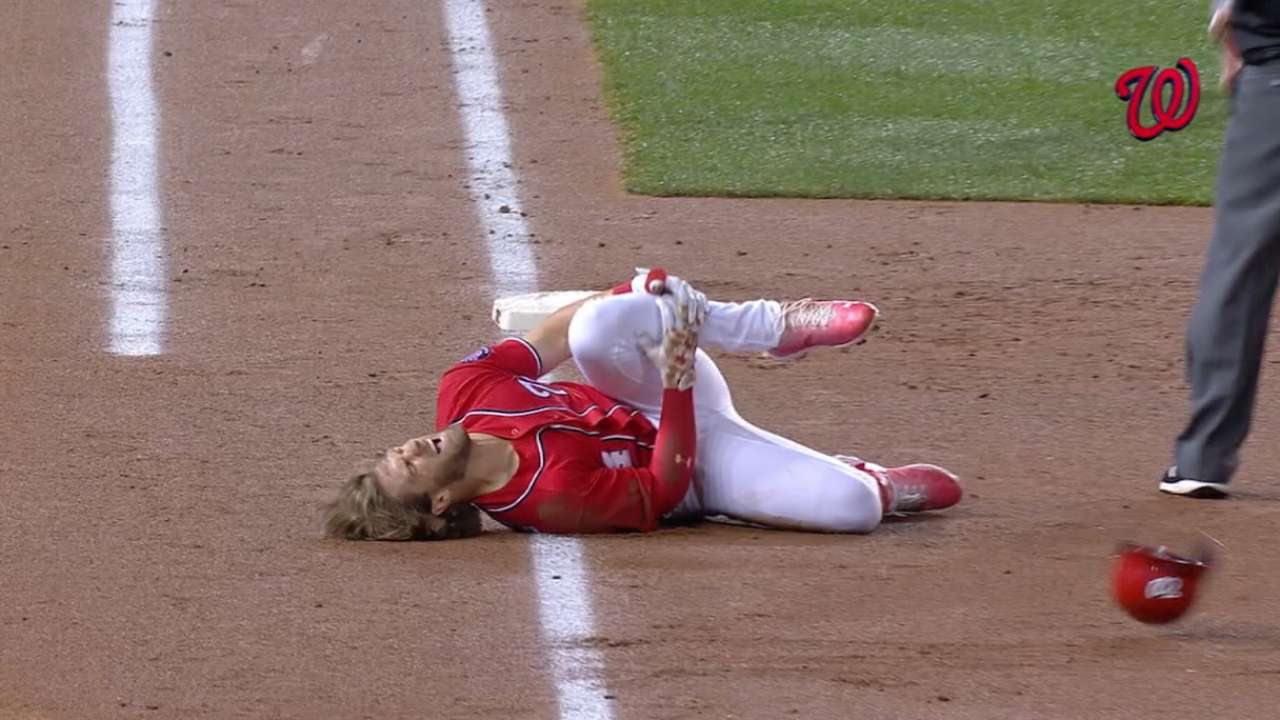 Fantasy spin | Fred Zinkie (@FredZinkieMLB)
This injury serves as a tough blow for Harper owners, who should drop the 24-year-old in virtually every redraft format. But the loss aside, those who selected Harper this past spring can take solace in knowing that the superstar slugger outperformed even some of his loftiest preseason projections across 472 plate appearances. In other words, Harper's numbers to date combined with a waiver-wire pickup's rest-of-season stats should still equate to a first-round pick well spent. Shallow-league Harper owners can check waivers for a replacement such as Josh Bell, Manuel Margot or Taylor. Meanwhile, those in deeper leagues can take a look at Bradley Zimmer, Nick Williams or Jose Pirela.
Jamal Collier covers the Nationals for MLB.com. Follow him on Twitter at @jamalcollier. This story was not subject to the approval of Major League Baseball or its clubs.