More than a decade has passed since an 18-year-old in a baggy shirt crouched next to a football on the Bernabeu pitch, ready for his official photograph. A half-smile and a sideways glance implied that the full-back from Fluminense could scarcely believe his surroundings.
Real Madrid announced on Wednesday that Marcelo has signed a contract extension that will keep him at the club until 2022. When that contract ends, he will have been at Real Madrid for almost 16 years. Marcelo arrived in Spain in January of 2007 with the unenviable task of replacing Roberto Carlos, yet he will probably exceed Carlos' 527 appearances for Real Madrid. And with the support of Casemiro, he may also inherit his hero's reputation as the greatest attacking left-back of the past 25 years.
Marcelo recently penned an autobiographical column for The Players' Tribune. The piece was slickly ghost-written and sugar-coated but did reveal much about his delightfully pure approach to football.
"I love to attack. No, not just attack, A-TTACK. You know? And then later on, at the back? If we got a problem, we'll figure it out. But first, we attack."
The modern full-back is expected to make an attacking contribution while fulfilling certain defensive responsibilities. Jonathan Wilson, a doyen of literature on football tactics, notes that the full-back is known as the "lateral" in Brazil and Spanish-speaking countries. Lateral implies width, but not necessarily depth or an obligation to defend. The term "full-back" is anachronistic and rigid; it does not accurately describe players like Marcelo, who act as auxiliary midfielders rather than defenders.
The concept of the attacking full-back emerged in Brazil in the 1950s and Marcelo encapsulates the innovation of his elder compatriots. Like Dani Alves, he's not just one of the best full-backs in the world. He is one of the best footballers. He boasts impeccable control, penetrative movement and grace.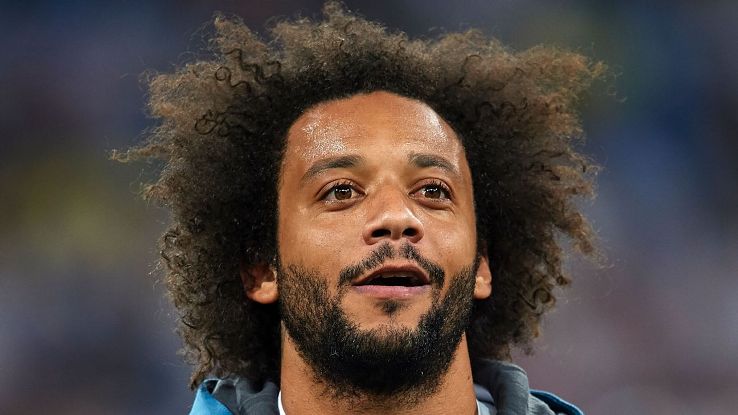 Marcelo appeals to those who judge players empirically as well as exponents of the traditional "he looks a player" intuition and the significance of his attacking contribution to Real Madrid is borne out by statistics. The Brazilian contributed 10 assists during the 2016-17 season: only Toni Kroos, whose tally was aided by set piece responsibilities, assisted more.
Further analysis reveals that Marcelo's role is more profound. XGChain is a recent addition to the football statistician's armoury of metrics, gauging the attacking contribution of players beyond their goals, shots and assists by tracing the phases of possession that lead to attacking chances. XGChain allows creative centre-halves (or in this case full-backs) to gain credit for their attacking influence.
In Real Madrid's first two La Liga matches, against Deportivo and Valencia, Marcelo was the top player in terms of xGChain. He was not in the top three against Levante but in that match he played in a more advanced position with Theo Hernandez at full-back. The data shows that a significant proportion of Madrid's attacking phases of play either start with, or come through, Marcelo. He is an unorthodox playmaker.
The 29-year-old is emboldened to attack by the movement of the player in front of him: Cristiano Ronaldo. The Portugal international tends to drift in to the box, leaving space on the left flank into which Marcelo can gallop. Yet it is a less glamorous teammate who really grants Marcelo the license to thrill.
"You can only play with this kind of freedom if you have a good understanding with your partners[…] Ahhh, Casemiro. He saved my life," Marcelo wrote in The Players' Tribune.
A predominantly defensive, pivot midfielder and a gallivanting full-back make a curious couple, yet they are fundamental to Madrid's attacking play. Casemiro is Marcelo's safety net. The midfielder, who arrived from Sao Paulo in 2013, screens across the pitch to cover the space that Marcelo leaves open when he attacks.
It's hard to quantify Casemiro's contribution. Defensive positioning and knowing when to halt a counterattack with a scything challenge are not easily reflected on a graph, yet Casemiro must take some responsibility for the fact that Marcelo is not regularly exploited. During Germany's 7-1 demolition of Brazil in the 2014 World Cup, Thomas Muller wreaked havoc in the space that Marcelo left open. While Marcelo should not be totally absolved of blame, Luis Gustavo — the defensive midfielder responsible for patrolling the left side of the pitch — did not cover Marcelo as diligently as Casemiro now does.
In short, Casemiro makes the players around him look better and Marcelo benefits as much as any other Madrid player. During the 2016-17 season, Real Madrid won 75 percent of the matches the Brazilian pair started together.
Zinedine Zidane appreciates players of Casemiro's understated ilk, the iron girders that run beneath the elaborate facade of a building. Florentino Perez sold Claude Makelele to Chelsea in 2003, preferring to fill the Madrid team with attacking flair at the expense of solidity and balance. Zidane's response said it all: "Why put another layer of gold paint on the Bentley when you are losing the entire engine?"
In his autobiographical article, Marcelo cheekily suggested that "I might play until I'm 45 with this guy [Casemiro] by my side." The Bernabeu faithful can hope. While the two of them feature together, Real Madrid's Bentley will continue to be driven from the left-hand side.
Matt McGinn is ESPN FC's Real Madrid blogger. Twitter: @McGinn93